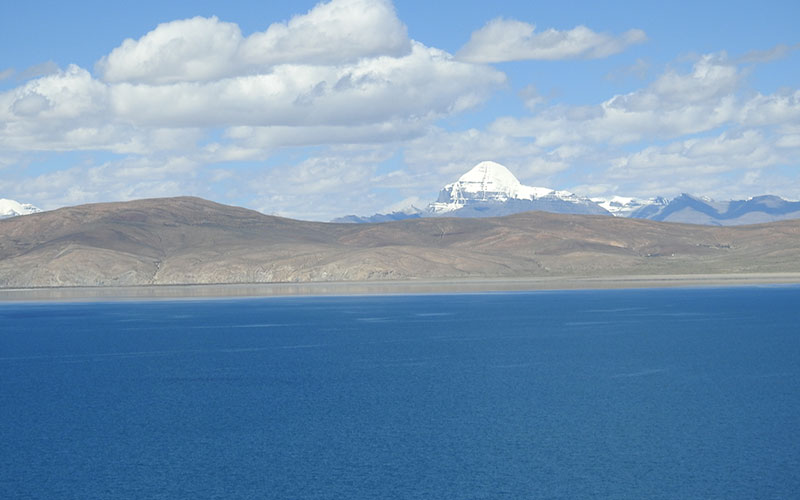 Trip Duration


07 Days

Start Point


Nepalgunj

Finish Point


Nepalgunj

Trip Type


Group Joining

Trip Expense


on request
Kailash Yatra without Prikrama
Kailash Manasarovar Yatra without trekking or kora is a trip designed for those who do not want to perform trekking / kora / parikrama of Mount Kailash and want to take holy bath in Lake Mansarovar and get holy 'Darshan' of Mount Kailash from base camp. This tour package to Mount Kailash and Lake Mansarovar starts from Lucknow (India) or Nepalgunj (Nepal) and takes you to the border town of Hilsa via Simikot by helicopter and fixed wing aircrafts. Upon entering you will drive to Taklakot hotel for a two days much required acclimatization. Next from Taklakot you will visit Lake Mansarovar and Mount Kailash. The parikrama of Lake Mansarovar (90kms approx) is performed by bus after which the devotee will travel to Yam Dwar by road for holy darshan of Mount Kailash. To know more check our trip itinerary below:
Kailash Mansarovar Yatra Without Parikrama
Reach Lucknow and drive to Nepalgunj (4-5 hours drive)
Arrive at the designated meeting point in Lucknow today morning and then after meeting your group members, start drive to Nepalgunj in an air-conditioned tourist bus. You can give a midway halt for some tea/coffee and then again continue with the journey. Before entering Nepal each traveler has to undergo immigration formalities at the Indo-Nepal border, which may be very time taking sometimes. Arrive at Nepalgunj and then stay overnight here. An evening trip briefing session may be organised here by our teamfor which a prior intimation will be given to the group participants.
Meals included : Packed snacks and Dinner at hotel,
Max. Elevation : 152 m,
Distance covered : 190 kms,
Accommodation Style : 4* hotel on sharing basis
Fly Nepalgunj To Simikot
Today, you will be boarding a flight from Nepalgunj in order to reach Simikot. The journey from Nepalgunj to Simikot by air is considered to be complicated as the flights here are completely dependent on the weather conditions which changes very frequently. Your flight can be delayed if the weather on this air route is disturbed. On your arrival at Simikot, take a short trek to reach your guest house. Enjoy free time to acclimatize your body with the climatic conditions. Stay at Simikot will be in hotel or guest house.

Important Remark: Based on our past experience with weather problems, we have added a night stay at Simikot prior to reaching Tibet. If weather and situation permits, the local representative may organize helicopter trip to Hilsa or Taklakot today itself.
Meals included : Veg Breakfast, Lunch and Dinner,
Max. Elevation : 2910 m,
Distance covered : 297 kms by flight / 45 minutes,
Accommodation Style : Guesthouse on sharing basis
Fly Simikot To Hilsa By Helicopter. Drive To Taklakot
Wake up early in the morning to board a helicopter to Hilsa from Simikot airport. Arrive at Hilsa and then from here walk towards the border. At border you will be completing the custom and immigration formalities before you enter China by walk . On the other side of the border, you will see the buses waiting to pick you up and drop you to your hotel in Taklakot (Burang). Thebus first will stop at border customs and immigration counter where thorough checking of your documents and luggage will be performed by Chinese immigration staff. Night stay will be at Taklakot.
Important Remark: Hilsa is a deserted border town of Nepal with extreme inhospitable climatic conditions. It is compulsory for the group members to cross Nepal-China border together as all will be travelling under a group permit & visa. In the event of delay in crossing the border due to any reason one must spend time relaxing, doing yoga meditation or in other personal activities. The delay in crossing the border, if happens, might cause health related issues as the dusty air, scorching heat or cold winds here are tough to bear. Stay at Hilsa is not planned but if situation occur we might also face shortage of eatables and other living facilities. Please carry your water bottles, light eatables with you and keep patience. Cooperate with the crew members as they try their best to offer you best possible comfort
Meals included : Veg Breakfast, Lunch, Dinner,
Max Elevation : 4025 m,
Distance Covered : 25 mins by helicopter Nepal side + 22 kms drive China side,
Accommodation style : 4* equivalent hotel at Taklakot (or lodge stay if at Hilsa)
Taklakot – Day Free To Acclimatize
Today, wake up as per your comfort since you are free today. Acclimatize your body with the weather conditions in Taklakot. You may take a walk to nearby markets, meditate or perform a short hike in Taklakot. Taklakot is a good place to buy trekking sticks, water bottles, trekking gears, shoes, jackets etc if you think you have forgot to pack something while starting from home. Do not forget to enjoy bargaining but ensure to buy good quality stuff only.
Meals included : Veg Breakfast, Lunch, Dinner,
Max Elevation : 4025 m,
Distance covered : 0 kms,
Accommodation style : 4* equivalent hotel at Taklakot (or lodge stay if at Hilsa)
Taklakot To Lake Manasarovar
This day is very important in your Kailash Yatra since you are traveling today to the magestic holy Lake Mansarovar and will also have the opportunity to have the very first Darshan of Mount Kailash. Have some breakfast and then start your drive towards Lake Manasarovar in the bus. The beautiful drives takes you through mesmerizing mountains and terrains. After driving for an hour or more you will find giant lake on the left side. This is Lake Rakshas Tal (Lake of Demons). Stop here and walk to the view point. Capture the beauty in your camera and memories to cherish forever. Continue drive further to reach the beautiful Chui Gompa where you will be staying in a guest house. Chiu Gompa is close to Lake Mansarovar. Walk or take drive to Lake Mansarovar where you will be free to take holy bath and perform rituals, as you may want. Stay and food will be at Mansarovar today.
Night view of Lake Mansarovar : it is absolutely safe to go to Lake Mansarovar in the night under the starts to witness its beauty. It is advisable however to go in a small group and if possible take your Sherpa guide with you for any required help. Also remember to wear warm clothes, carry your torch and stick.
Important Remark : Kindly take a note that holy dip in the lake is no more permitted and has been categorized as an offence by the Chinese govt. At lake you must ask our sherpas to bring the water from the lake in a bucket so that you may take bath on the shore of the lake and perform puja.
Meals included : Veg Breakfast, Lunch, Dinner,
Max Elevation : 4590 m,
Distance covered : 70 kms to Chiu Gompa + 90 kms parikrama of Mansarovar by bus,
Accommodation style : Guesthouse on sharing basis
Drive to Mount Kailash ( 35 kms) - Drive back to Taklakot
Wake up early. Get freshen up and be ready to take next drive to Mount Kailash. One may take holy bath near Lake Mansarovar early morning today before starting drive to Mount Kailash. A short and beautiful drive brings you near the mount and we continue our drive to Yam Dwar from the town of Darchen. At Yam Dwar you will spend some time praying and capturing the beauty of mount Kailash. Later drive bacak to Taklakot (Burang) for night stay.
Meals included : Veg Breakfast, Packed Lunch/snacks, Light Dinner,
Max Elevation : 5210 m,
Distance covered : 35 kms drive + 12 kms trekking,
Accommodation style : Guesthouse sharing basis
Taklakot to Nepalgunj via Simikot (Drive + Helicopter + Flight)
Have some tasty breakfast and continue drive to the China-Nepal border. Complete the immigration formalities to cross the border and then walk towards Hilsa helipad to board your choper to Simikot.Depending on the availability of helicopter and your time of departure, you may have to wait at Hilsa for some time. From Simikot board a flight to Nepalgunj which takes 50 minutes to reach Nepalgunj airport. Arrive at Nepalgunj and drive towards Lucknow. This marks the end of your 7 days' journey of the Kailash Yatra by Helicopter via Nepalgunj.
Meals included : Veg Breakfast
Max Elevation : 3640 m (Hilsa), 2910 m (Simikot), 152 m (Nepalgunj),
Distance covered : 1.30 hours drive + 25min helicopter + 45min flight + 190m drive
Kailash Manasarovar via Nepalgunj - 07 Days Cost
Nationality
Trip Cost
Other Charges
Indian
on request
Chinese Visa - Included in package cost
Tibet Permit - Included in package cost
Nepal Visa - Not required
Travel Insurance - Included in package cost
Kailash Manasarovar via Nepalgunj - 07 Days Cost
Indian Yatra Cost
on request
Other Charges
Chinese Visa - Included in package cost
Tibet Permit - Included in package cost
Nepal Visa - Not required
Travel Insurance - Extra as per age
What is Included or Not Included
Price Includes
Arrival & departure transportation in Kathmandu
Sightseeing tour of Pashupatinath and Boudhanath Temples.
3 nights in 3 Star equivalent hotel in Kathmandu on twin sharing basis with all veg meals
Return transfer to Nepal-China border by local bus.
Tibet Portion: accommodation in guesthouses on sharing basis in dormitory style
Pure vegetarian meals.
Travel Insurance for Indians
Support vehicle for carrying luggage and kitchen equipments
English speaking Tibetan guide & Nepali tour leader supported by cook & helpers
First Aid kit with the group and Oxygen cylinders in Tibet side
Necessary permit Langtang and Kailash region.
Normal Tibet/China visa fee to visit Kailash.
Kerung border tax
Yak to carry kitchen equipments during parikrama
01 Backpack bag, 01 Duffle Bag and 01 Wind Cheater complimentary
Yatra completion certificate
What is not Included in our package price :
Air ticket to Kathmandu and back,
Extra cost for additional stay,
Food & transport in the any delay due to weather conditions or unforeseen reasons,
Evacuation expenses in case of emergency,
Riding yak/horse, porters for parikraama,
Any expenses of personal nature, urgent visa fee,
GST 5%, etc.
Note : Our package cost does not include any other item which is not listed in the above list of inclusions. We do not bear any liability for any other expense occurred during the trip and the same will be payable by the travelers on their own.
Kailash Yatra by Helicopter via Nepalgunj - 07 Days Image Gallery
Useful Information for traveling to Mount Kailash & Lake Mansarovar :