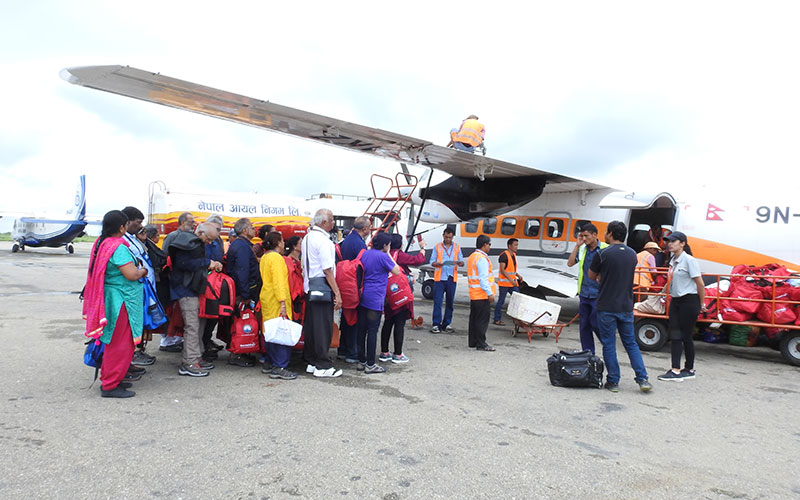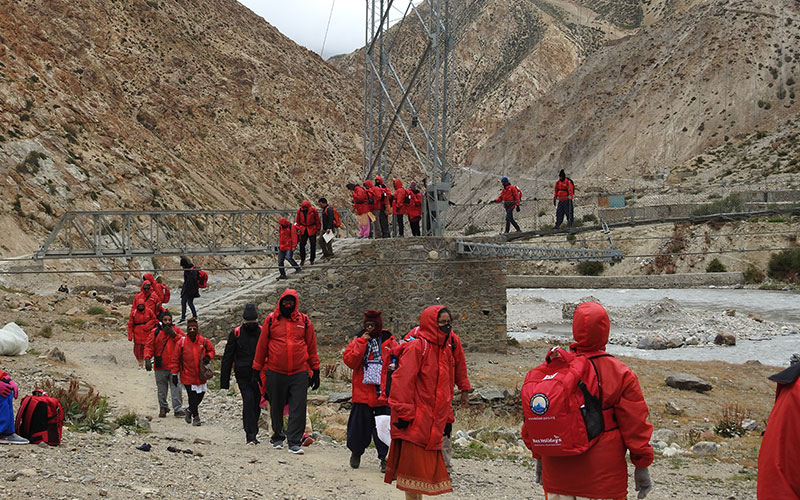 Kailash Mansarovar Yatra by Helicopter - 11 Days
One of the toughest trails of the world, the holy trek to Mount Kailash can possibly be luxurious with the facilitation of an 11 days' trip of Kailash Mansarovar Yatra by Helicopter. For those pilgrims who were not able to accomplish this expedition due to the presence of inadequate time can now be a part of the same through a chartered helicopter's ride that is meant especially for those physically weak elders who are not in a condition to participate in this trek by foot. In this package, the pilgrims will be travelling from Kathmandu to Nepalgunj by flight, then from Nepalgunj to Simikot by a different flight and then finally from Simikot to Hilsa by a fascinating Helicopter ride.
Kailash Mansarovar Helicopter Yatra Itinerary
Arrival at Kathmandu (1345m)
Arrive at Tribhuvan International Airport in Kathmandu where you will be meeting our tour representative who shall escort you to the pre-booked hotel. Check-in at your hotel and then stay overnight there.
Distance covered : 0 kms, Altitude : 1400 m , Meals Included : Dinner
Pashupatinath Temple visit and fly to Nepalganj (152 m) 1 hr. flight
Start your day with a delectable breakfast at your hotel and then visit the majorly renowned Pashupatinath temple. In case, you have some time left we can also visit the Boudhnath Stupa. On completing the exploration, our representative will be transferring you and your group to the Domestic Airport Terminal for boarding your flight towards Nepalgunj. Arrive at Nepalgunj and board a bus for taking you to your pre-booked accommodation there. Meet your fellow travellers who will be starting their journey from Nepalgunj and then spend overnight at your hotel.
Distance covered : 510 kms, Altitude : 152 m , Meals Included : Breakfast, Lunch, Dinner
Fly Nepalganj - Simikot (3224 m)
Have some breakfast after waking up early morning and then you will be escorted to Nepalgunj airport in order to reach Simikot by boarding a fixed wing aircraft. Ultimately, reach Simikot and today you are free to spend some leisure time by exploring the villages.

Note: In case the weather conditions are favourable, we shall then fly to Hilsa.
Distance covered : 275 kms, Altitude : 3890 m , Meals Included : Breakfast, Lunch, Dinner
Airlift to Hilsa by Helicopter, walk uphill to Sher and drive to Taklakot
Today morning, you will be flying towards Hilsa by a chartered helicopter equipped with a non-metallic air strip and on arriving at Hilsa, you will be taken to a short trek by our Sherpa team towards Sher. Reach at Sher, complete the immigration formalities and then you will be boarding our vehicles which shall drop you to your pre-booked accommodation at Taklakot. Arrive at Taklakot (Burang) and further check in at your pre-booked hotel for an overnight stay.
Day free for acclimatization at Taklakot (Burang)
This day is solely meant for you to acclimatize with Tibet's climatic conditions so that you are able to participate in this highly difficult spiritual walk to Mount Kailash. Today, you shall take rest at your hotel for the whole day and apart from this, if you are interested you can take a short walk in the nearby markets.
Distance covered : 0 kms, Altitude : 4025 m , Meals Included : Breakfast, Lunch, Dinner
Drive to Chui Gompa, Mansarovar (4590 m)
Today is the most important day since you will be having the first glimpse of the pure Lake Manasarovar. Have some tasty breakfast and then drive towards Chui Gompa (4560 m) while passing through the Lake of Devil Rakshastal. Take a holy bath in its pristine water and apart from this, you can also arrange a puja or havan on the basis of direct payment. Also have a visit to the Hot springs (direct payment) if the time permits. Overnight stay at your guesthouse/camp/lodge nearby Lake Manasarovar.
Distance covered : 110 kms, Altitude : 4590 m , Meals Included : Breakfast, Lunch, Dinner
35 kms drive Mansarovar to Tarboche. Trek to Dirapukh (12 kms / 5-6 hrs).
After breakfast we drive to Tarboche which is also known as Shershong. Enroute we will visit Yama Dwar. Enter the holy gate and continue further to Tarboche. At Tarboche you will meet Yak and Yak men. This is the starting point of the parikrama and the first day of kora / parikrama / circumambulation. If you wish to hire a Yak and a porter to carry yu and your luggage during trekking of Mount Kailash, you have to take from here only. After finishing the trek you will today have the closest darshan of Holy Mt. Kailash (North face) from Dhirapukh. Today we will stay in a lodge at Dirapuk.
Distance covered : 61 kms, Altitude : 4910 m , Meals Included : Breakfast, Lunch, Dinner
Trek to Zuthulphuk (4790 m) – 22 kms / 9-10 hrs. trek
Wake up early morning today and enjoy the breathtaking Golden view of Mount Kailash. Then, start your trek while walking uphill. Today's trek is highly difficult and thus, you have to walk very carefully. Firstly, you will have to cross the trip's highest point i.e. the Dolma La Pass (5630 m) while climbing upward on the steep surface. Then you will have to move downward while descending towards Zuthulphuk and then spotting the Gauri Kund when you will move down. On reaching there, you will then be walking on a pleasant valley with a flat surface while relaxing a bit. Finally, reach Zuthulphuk and stay overnight in a guesthouse/lodge/camp.
Distance covered : 22 kms, Altitude : 5630 m , Meals Included : Breakfast, Lunch, Dinner
Zuthulphuk to Darchen trek 08 kms/ 2 - 3 hrs. and drive to Taklakot 110 km/ 4 - 5 hrs.
Enjoy a luscious breakfast nearby your stay and then you start your trek towards Darchen. While trekking towards Darchen, our vehicles will be picking you and other group mates in the mid-way and from there you will be driven back to Darchen. On reaching Darchen, our vehicles are going to pick up the non-participants of the trek who were waiting at this point and then they shall drop you to Lake Manasarovar (58 km). Arrive at Lake Manasarovar and change your vehicle, then indulge in a 50 km long drive till Taklakot. Overnight stay at your pre-booked accommodation in Taklakot.
Distance covered : 120 kms, Altitude : 4025 m , Meals Included : Breakfast, Lunch, Dinner
Drive Taklakot to Sher, Trek down till Hilsa and Take Helicopter Hilsa-Simikot & Flight Simikot-Nepalgunj-Kathmandu
Today after a decent breakfast, drive towards Sher and then move downwards in order to reach Hilsa. Arrive at Hilsa and then from there, you along with your group will be ferried to Simikot and on reaching Simikot, continue your flight to Nepalgunj and from there, board a connecting flight for reaching Kathmandu and then stay overnight there.
Distance covered : 1105 kms, Altitude : 1400 m , Meals Included : Breakfast, Lunch, Dinner
Leave Kathmandu
Have some breakfast and then, you will be driven towards the Tribhuvan International Airport for flying back home/onward destination.
Distance covered : 0 kms, Altitude : 1400 m , Meals Included : Breakfast.
Kailash Mansarovar Helicopter Yatra Dates 2019 - 11 Days
Kailash Mansarovar Yatra by Helicopter ex Kathmandu is the most accepted tour itienrary for those who wish to avoid long drives to reach Lake Manasarovar and Mount Kailash. Every year we organise a series of fixed departure groups on Kailash Yatra helicopter route. If you want to join one of our pre-designed groups, send a booking request. For a customised tour itinerary for your private group we welcome your email or phone calls.
Map for Kailash Mansarovar Helicopter Yatra Route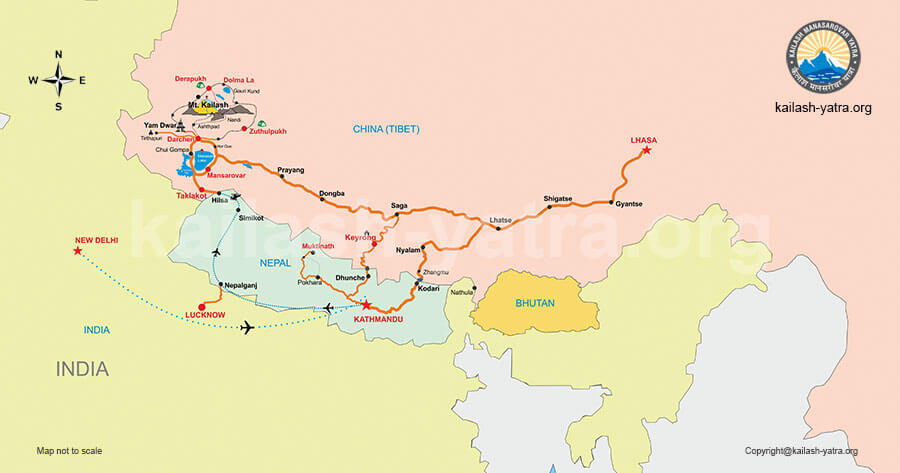 Kailash Manasarovar Yatra by Helicopter - Price Details
What is Included or Not Included
Price Includes
Price Includes :
Arrival / departure transfers from airport to hotel in Kathmandu and Nepalgunj.
02 Nights stay in Shangri La or Marriott hotel (or similar) in Kathmandu with all veg meals
01 night in good hotel at Nepalgunj with all veg. meals
Kathmandu tour covering Pashupatinath Temple and Boudhnath Temple
Kathmandu/Nepalgunj/Simikot both way air fare by regular flights.
Simikot-Hilsa-Simikot both ways flight by Chartred helicopter
Accommodation in hotel at Taklakot and guest house near Mansarovar Lake with all veg. meals
Accommodation in lodge during parikraama with all meals as specified above
Van / Bus and luggage truck from Tibet border to Darchen and back
Nepali Team leader and supporting team as per Chinese rules and regulations
English speaking Tibetan and Nepali guides
Chinese visa to visit Kailash
Kailash Yatra Tibet Permit fee
Humla Restriction fee
01 free Duffel Bag and 01 Free Backpack bag
Free Wind Cheater jacket
Yak for Kailash parikrama for carrying kitchen equipments
First Aid kit
Oxygen cylinder at Tibet side
What is not Included in our package price :
Air ticket to Kathmandu and back, extra cost for additional stay, food & transport in the any delay due to weather conditions or unforeseen reasons, evacuation expenses in case of emergency, travel insurance, riding yak/horse, porters for parikraama, any expenses of personal nature, urgent visa fee, GST 5%, etc. Our package cost does not include any other item which is not listed in the above list of inclusions. We do not bear any liability for any other expense occurred during the trip and the same will be payable by the travelers on their own.