Know how it works for travelling to Kailash Mansarovar from USA for the American passport holders (USA nationals & NRIs)
Spirituality! It represents and recognises feeling, sense and belief of an individual that there is something in the universe that is greater than myself and anything. Spirituality, tells us that the life is more about being human, rather than being rich or powerful. For ages mankind has been travelling from one corner of the world to the other, in the search of inner peace and to understand the real meaning of 'life'. The world has more than 4000 religions and Hinduism has been recognised as a compilation of many traditions and philosophies which makes it one of the purest, most powerful and meaningful religions. Lord Shiva has been recognised as the Supreme God of Hindus and it is believed by the followes that Mount Kailash is His ultimate home where He lives with His wife Parvati and son Ganesha and Kartikey. Mount Kailash is considered to be the most sacred mountain peaks in Himalayas it and in many scientific studies by America and Russia it has been referred as the Axis Mundi of the earth. The spiritual aura of the place can only be experienced by visiting this holy land where you will feel the presence of the supreme Lord everywhere. I have been fortunate enough to be invited by the almighty in His home several times and I feel even more fortunate to tell you how it works for travelling from USA to Kailash Mansarovar. Check out the information here and to be there just feel free to join one of my fixed departure groups planned every year.
Day 01 - 05
Fly from USA to Kathmandu, Nepal to join Kailash Mansarovar tour
Start your journey from USA to Nepal in order to kickstart your Kailash Mansarovar Yatra tour. There are direct and connecting flights from various International airports in USA to Tribhhuvan International airport Kathmandu, Nepal. For Mount Kailash and Mansarovar Lake tour from USA the flight ticket is usually not included in the trip cost but you can ask the representative of Max Holidays to book it for you at an additional charge. Apart from the flight ticket, you must also ensure to buy a travel cum medical insurance before leaving your country. A list of necessary documents for Kailash Mansarovar travel for American travellers can be obtained from the office of Max Holidays.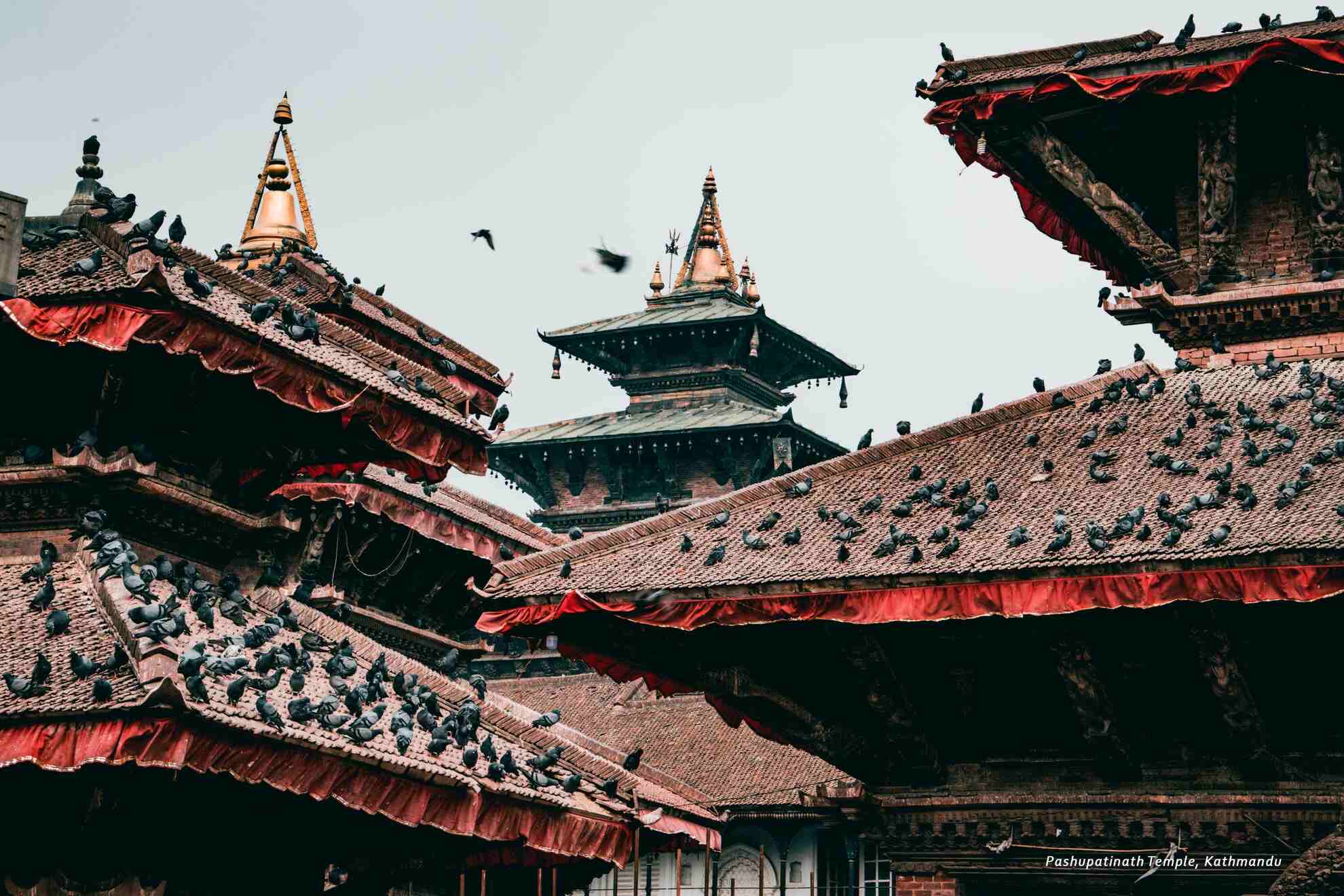 At Kathmandu.
After a long flight as you arrive at Kathmandu Tribhuvan International airport you go through the designated office of immigration officer, inside the airport, to obtain Nepal Visa on Arrival (VoA). After getting the Nepal entry visa, walk through the customs and meet our company representative outside the airport who will arrange for your transfer to the pre-booked hotel.
Processing China entry visa at Kathmandu
The China visa for American passport holders is granted by the China Embassy in Kathmandu. From April'2023, Chinese embassy in kathmandu has made it compulsory for all non-indian passport holders to give biometrics before the passport submission for China visa. Our Kailash Yatra representative will take your passport from you to submit with the China embassy. For granting visa to American passport holders to visit Kailash Mansarovar in Tibet Autonomous Region (TAR), the China Embassy usually takes two to three working day.
Moving around in Kathmandu
During your stay at Kathmandu, a visit to various popular temples Pashupatinath Temple, Vishnu Narayan Temple and Guheshwari Mata Temple will be organized by Max Holidays as a part of the Kailash Yatra package for USA passport holders. If you want to visit more places in and around Kathmandu or even if you like visiting Muktinath Temple or take a Mountain flight, ask your dedicated tour booking representative at Max Holidays head office in New Delhi.
Day 06 - 07
Fly to Nepalgunj from Kathmandu airport
Your Kailash Mansarovar Yatra started from USA is now actually heading to the destination as you board your flight from Kathmandu to Nepalgunj. The one hour flight will bring you to Western side of Nepal where road connectivity and is poorer as compared to the Easter and Central Nepal. Nepalgunj, being the gateway in Nepal for Kailash Mansarovar still has some fairly good hotels to offer a comfortable stay. This small city of Nepal, bordering India, is easily accessible by road from Lucknow, Bareilly and many other popular cities of Uttar Pradesh in India.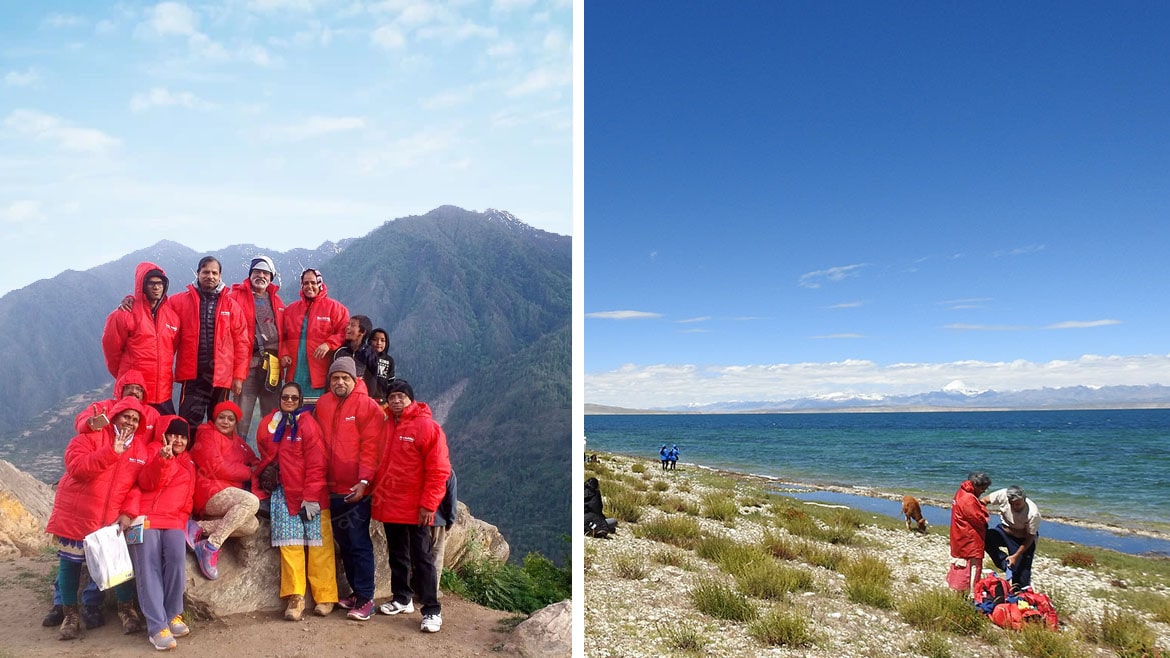 Fly to Simikot from Nepalgunj
In your Kailash Yatra from USA, the most complicated part of the trip is the flight sector from Nepalgunj to Hilsa via Simikot as it not only lack the required infrastructure but is completely weather permitted at the same time. The weather in this region is extremely unpredictable and flight delays are a very known issue here. The flight from Nepalgunj to Simikot takes about 40-50 minutes (depending on wind speed and direction). There are only few flight companies in Nepal who provide this service with Dornier aircraft, having a capacity of about 17-18 passenger to fly in one time. The tour guides will organise this and you must follow his instructions.
Simikot, in Karnali Province, is a small hill settlement in upper Western Himalays of Nepal. Simikot has a small airport and helipad which serves the entire Humla district. Simikot is not connected to the National road network of Nepal, hence flights are the only option to reach this place. There are many small but beautiful guesthouses operated and managed by the local families with kitchen and common toilet facilities. You will spend a night here before moving ahead to Tibet to continue your Kailash Mansarovar Yatra started from USA.
Chartered Helicopter flight to Hilsa
At Simikot, the guide will organise for your helicopter flight to Hilsa. The 25 minutes flight over the mountains will bring you to Hilsa which is a small Nepalese village near Tibetan border. Get a bird eye view of the stunningly beautiful of Mountains in Karnali province while enjoying the helicopter flight.
At Simikot, the guide will organise for your helicopter flight to Hilsa. The 25 minutes flight over the mountains will bring you to Hilsa which is a small Nepalese village near Tibetan border. Get a bird eye view of the stunningly beautiful of Mountains in Karnali province while enjoying the helicopter flight.
Day 08-09
Burang (Taklakot) the first place to stay in Tibet
After completing the immigration and custom formalities at the border, you will then drive to your hotel in Burang in a luxury bus. On the way there will be another stop for customs and body screening, before you finally head to your hotel at Burang County.
Fairly good and big settlement near Nepal-Tibet border covering the area of 12,530 sq kms, Burang County has a population of about 14,000 people. Taklakot also offer few good hotels for stay with ensuite toilet and bathroom facilities.
Here at Burang you have two days to relax and acclimatize. While here, one can go out to explore the town and/or visit the local markets. It is highly recommended that you keep yourself hyderated and eat proper food so as to adjust with the local weather as quickly as possile. In your Kailash Mansarovar Yatra tour package from USA, you have gained the altitude of 4000meters+ and the next destinations will demand high level of fitness for a successful and enjoyable visits.
Exploring Lake of Demons (Rakshas Tal) and holiest Lake Mansarovar
After staying at Taklakot (Burang) for two nights, it is now time to enter the place of ultimate spiritual significance. Since you left your home for this pilgrimage and started your Kailash Mansarovar yatra from USA, you always waited for this day. Hold your excitement as after a couple of hours drive from Taklakot, you will get the first glimpse of holy Mount Kailash. Magically beautiful, shaped like a diamond, Mt. Kailash can be easily seen rising high in the mountains. Before reaching Lake Mansarovar, you will find a stunningly beautiful lake with turquoise blue water on the left side of your bus. This is Rakshas Taal also known as Lake of demons or Ravan Taal. It is said that this is the lake of negativity and one should not touch the water of this lake. After spending an hour near Rakshas Taal, you then continue drive to Lake Mansarovar.
Activities to do near Lake Mannsarovar
Mansarovar Lake offers very limited options of accommodation. There are few guesthouses within walking distance from the holy lake. The accommodation near the lake will be in dormitory style. From here the toilet facilities will become a challenge as the guesthouses here does not offer toilet facilities.
At Mansarovar Lake pilgrims take holy bath, they perform puja rituals as per their own customs and then go for parikrama in a bus organized by the tour guide. The distance covered during the parikrama ok the lake is about 95 kms and it may take 3-4 hours including a halt, if permitted by the army.
Night view of the holy lake Mansarovar and is very popular especially during the full moon night. Our group if pilgrims travelling from USA to Kailash Mansarovar will have an opportunity to visit the lake by night to witness its beauty and also to experience the magical moments taking places near the lake during the night time. It is considered that Lord Shiva and Parvati come at Lake Mansarovar during full moon night.
Day 10-12
At Mount Kailash
In the morning, a short drive from Lake Mansarovar will bring the group to Darchen, which is situated in the base of the holy Mount. From here the guide will arrange further short drive to Yam Dwar which is situated in the South of the Mount Kailash. Yam Dwar is the starting point for the trekking/parikrama of Mt. Kailash. Here you can find a ticket counter for paid service of pony and porter, for the parikrama.
First day trekking of Mount Kailash
The parikrama of Mt. Kailash will be for three days total and the distance covered by walk will be about 42 kms. The first day trekking of Mt. Kailash does not look difficult as the surface is almost flat, but the high altitude and lack of oxygen may turn this to be very challenging task for many. The 12 kms trekking brings you to the North Face of Mt. Kailash as you see the huge diamond shaped mountain in front of you. This is the face of Lord Shiva you see from Dirapukh.
Staying near the North Face of Mount Kailash at Dirapukh Gompa
On reaching Dirapukh you will stay in a dormitory where you will e offered a bed to sleep with blankets/quilt. The dormitory is very close to the Mount Kailash and you can anytime come out of your room and have mesmerizing view of the holy mount.
Charan Sparsh Trek (Touching the feet of Lord Shiva)
The holy Mount is considered to be Lord Shiva himself by the devotees. The group travelling from USA to Mt. Kailash on Kailash Mansarovar pilgrimage will have a chance to take further 3-4 kms trek towards the North Face of Mt. Kailash to touch the feet of Lord Shiva. This rewarding trek is very challenging and one should attempt only if feeling healthy. It is advisable to go in a group and take a sherpa with you for any assistance you may require during the trek. Night stay will be in the guesthouse at Dhirapukh.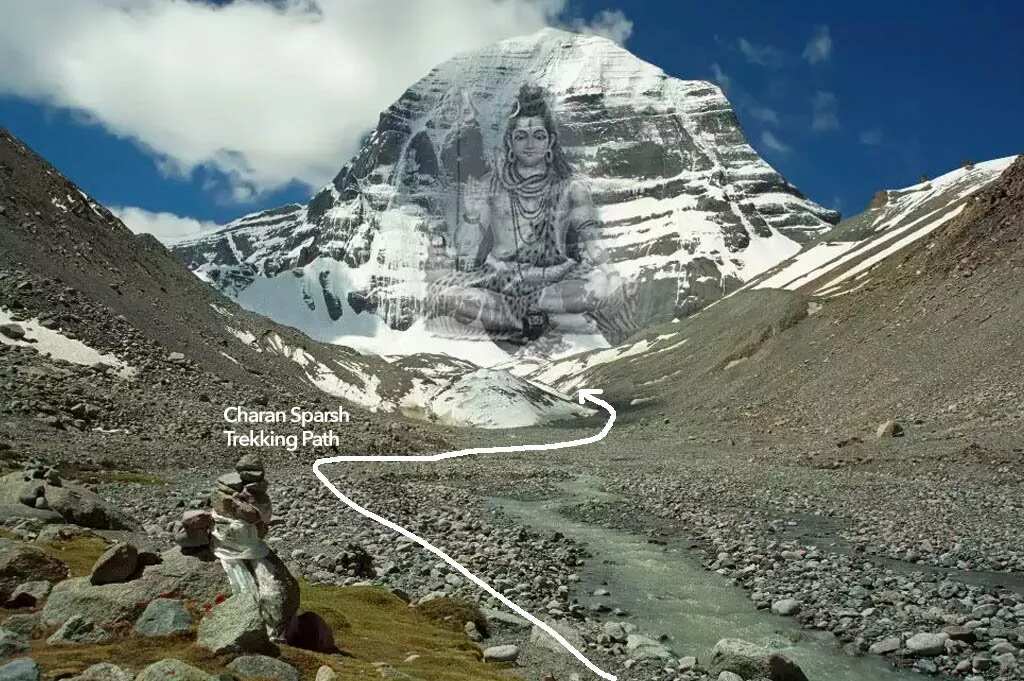 Watching the amazing Golden Kailash during sunrise
Next morning is another big day in your Kailash Yatra from USA. Early in the morning during sunrise the devotees will come out of their accommodation to witness the magical moment when the Mount Kailash will start changing its colour as the first light of the morning reaches its top.
Second day trekking of Mount Kailash
After Golden Kailash darshan its now time to take quick breakfast and start the second day trekking to Zuthulpukh. This day is going to be the most challenging time of the entire Kailash Mansarovar Yatra not only due to the challenging track but also for the height also. The track will take you through some treacherous path through 18600 feet high Dolma La pass.
Crossing Dolma La Pass & Gauri Kund
The trekking from Dirapukh to Dolma La pass is actually tough for people of any age and any fitness level. Rocky path, steep ascend for about three kilometers followed by some challenging steep descend will bring you to the next important point. As you cross the Dolma La pass, you find yourself near the holy lake Gauri Kund. Spend some time here and then continue your walk to Zuthulpukh which is your destination for the night stay.
Reaching Zuthulpukh Gompa
Completing 22 kms of one of the most treacherous treks of Asia, in your Kailash Mansarovar Yatra tour from USA, today you will reach Zuthulpukh Gopma where stay will be organized in a guesthouse.
Last day trekking back to Darchen
In the morning take some light breakfast, visit the Gopma and then continue trekking down towards Darchen where other group members are waiting for you. After walking for 7-8 kms you will reach to a point where a vehicle will be waiting for you to transfer you to the hotel at Darchen.
Day 13-16
Drive to Burang (Taklakot)
After meeting the group members at Darchen, a relaxed drive will bring you to Burang (Taklakot) where the guide will organise stay in a hotel. The rooms in the hotel are with attached bath and you will have time to relax here after the successful Kailash Mansarovar travel.
Crossing the border to reach Nepal
In the morning the guide will coordinate with the team members in Nepal and accordingly your travel to Kathmandu by helicopter and connecting flights will be arranged. Travel from Taklakot (Tibet) to Hilsa (Nepal) by road and then board the chartered helicopter to Simikot. Take connecting flight to Kathmandu via Nepalgunj. Leisurely stay in the hotel at Kathmandu.
Journey back to USA
Two weeks back you travelled to Nepal to from USA for Kailash Masarovar sojourn. Today your Kailash Yatra tour from USA will come to an end as you fly back to home with everlasting memories of this greatest spiritual encounter.