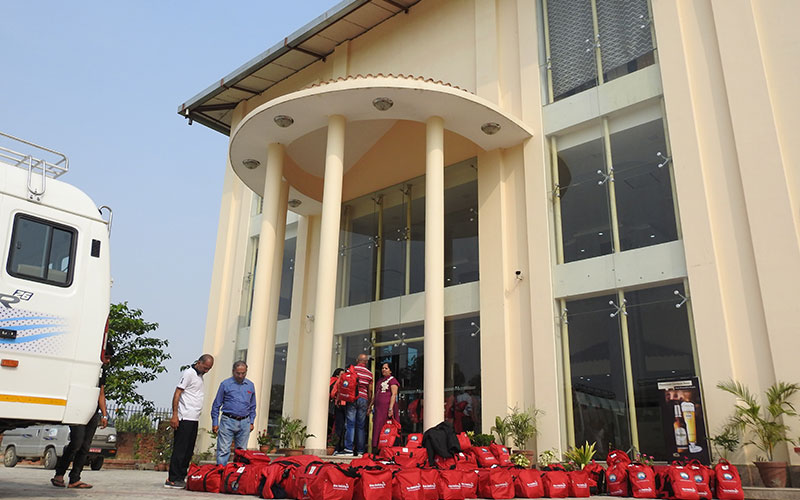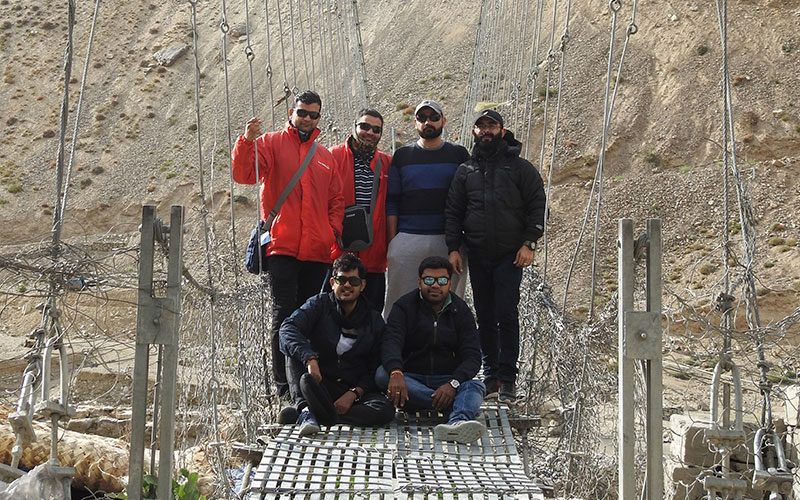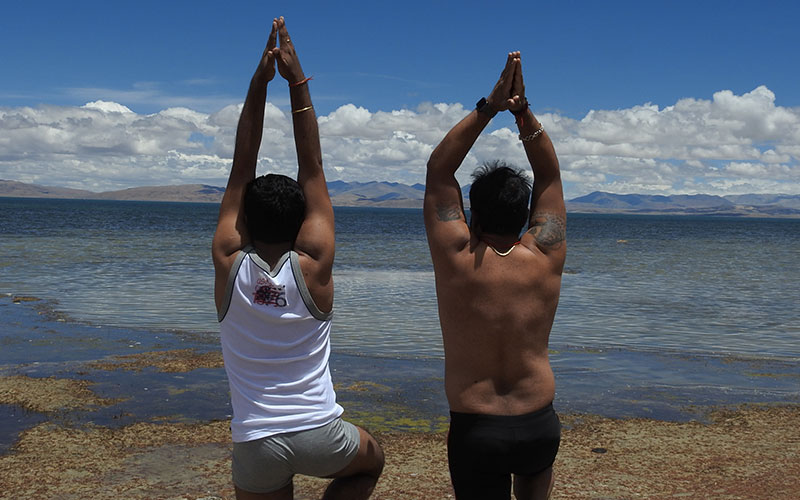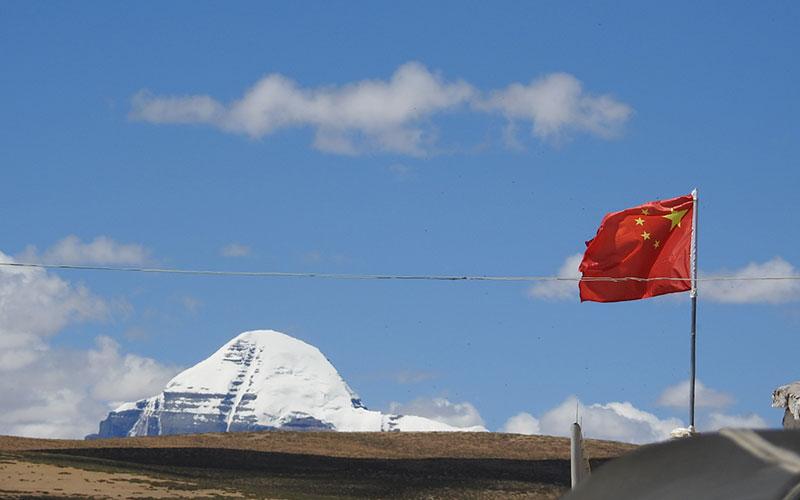 Kailash Yatra by Helicopter from Lucknow & Nepalgunj - 09 Days
Kailash Mansarovar Yatra from Lucknow and Nepalgunj is done by helicopter from Burang region in Tibet. This route makes your journey to Kailash Manasarovar easier and faster. Nepalgunj is about 4-5 hours comfortable drive away from the town of Lucknow in Uttar Pradesh, India. For Kailash Mansarovar Yatra by helicopter from Lucknow, one needs to take a drive till Nepalgunj and then fly to Simikot by fixed wings aircraft and then further fly to Hilsa by Helicopter from Simikot. From Hilsa, after crossing the Nepal-China border, the drive leads to Taklakot (Burang) which is a tiny and beautiful border town of Tibet, China. After acclimatizing in Taklakot, drive to Mansarovar Lake amidst the beautiful views of natural beauty spread all around. Kailash Yatra ex Nepalgunj is ideally designed for those pilgrims who are short of time, cannot take a long duration tour for visiting the holy Kailash Mansarovar but have a great desire to worship there and take a dip in holiest Lake Mansarovar. This itinerary is normally for 09 days but it can also be altered to a 07 days' Kailash Mansarovar yatra for private groups.
Kailash Yatra by Helicopter from Lucknow & Nepalgunj - 09 Days Itinerary
Lucknow to Nepalganj drive by bus (188 kms / 5 hours approx.)
You will be meeting our whole tour group at Lucknow and from there we shall start our trip by driving towards Nepalgunj. This drive is going to commence at around 9 am and thus we would recommend you to reach the gathering point well on time. Reach Nepalganj and then have some lunch at your pre-booked hotel there. At evening, you will be participating in the briefing session at your hotel in Nepalganj where you will be explained about the trek to Mount Kailash by our tour guide. Stay overnight at your Nepalganj's hotel.
Distance covered : 180 kms, Altitude : 152 m , Meals Included : Lunch and Dinner
Fly Nepalganj - Simikot (3224 m)
Once done with an early breakfast, get an assisted transfer towards Nepalgunj airport in order to indulge in a scheduled flight for reaching Simikot by a fixed wing aircraft. Stay overnight at your pre- booked accommodation in Simikot.

Note: In case the weather conditions permit, we shall then experience a helicopter ride to reach Hilsa.
Airlift to Hilsa by Helicopter, walk uphill to Sher and drive to Taklakot (3890 m) 40 km / 2 hrs approx.
Early morning, you along with your group shall be ferried towards Hilsa by a chartered helicopter with a non-metallic air-strip. Arrive at Hilsa, and from there you will be participating in a 45 minutes' trek for reaching Sher with the assistance of our Sherpa team. Complete the immigration formalities at Sher and then head towards Taklakot (Burang), check in at your pre-booked hotel and then stay overnight there.
Distance covered : 275 kms, Altitude : 3890 m , Meals Included : Breakfast, Lunch, Dinner
Day free for acclimatization at Taklakot (Burang)
Today you are free to spend some leisure time at your hotel in Taklakot so that you can acclimatize with the weather conditions and the high elevation of Taklakot. We would recommend you to stay at your hotel and relax there. Apart from that, if interested you can also visit the nearby local markets of Taklakot.
Distance covered : 0 kms, Altitude : 4025 m , Meals Included : Breakfast, Lunch, Dinner
Drive to Chui Gompa, Mansarovar (4599 m) 90 Kms/ 02 Hours' Drive
This day is going to prove as the most fascinating one since you are going to have the first Darshan of Holy Lake Manasarovar. Have some luscious breakfast and then indulge in a scenic drive towards Chui Gompa (4560 m) while passing through the Lake of Devil Rakshastal. Reach Lake Manasarovar and then take some holy dips in the Lake Mansarovar. Apart from that, you can also do some Pooja and Havan on the banks of Lake Manasarovar on the basis of direct payment (on Full moon trips, it will be a full moon day at Mansarovar). Stay overnight at your pre-booked guesthouse situated near Lake Mansarovar.
Distance covered : 110 kms, Altitude : 4590 m , Meals Included : Breakfast, Lunch, Dinner
35 kms drive Mansarovar to drive to Tarboche. Trek to Dirapuk (12 kms/5-6 hrs).
On the completion of some delicious breakfast, start your drive towards Tarboche (Shershong). Give a midway halt for visiting the holy gate Yam Dwar. Pass through this gate and then, continue the drive for reaching Tarboche. Today is the first day of your Kora and you can either hire a Yak for the trek or do it by foot. Have the first view of Mount Kailash's North face while being indulged in your trek and then stay overnight in your camp at Dirapuk.

Note: Those who do not want to participate in the trek of Mount Kailash can return back to Darchen's hotel and wait for the other group mates who are a participant in Mount Kailash's Parikrama.
Distance covered : 61 kms, Altitude : 4910 m , Meals Included : Breakfast, Lunch, Dinner
Trek to Zuthulphuk (4790 m) - 22 kms/9-10 hrs trek.
Today's trek in considered to be the toughest one. Wake up early morning and then witness the beautiful Golden Kailash view when the first sunlight falls on its surface. Have some breakfast and then, get ready for the most challenging trekking day of the Kailash Manasarovar Yatra. You are going to visit the trip's highest point Dolma La Pass by climbing up continuously and then finally descending until you reach Gauri Kund. On reaching Gauri Kund, you will be walking on a flat surface providing you some relaxation for a while. Finally arrive at Zuthulphuk and then stay overnight there in your pre-booked accommodation (guesthouse/camp).
Distance covered : 22 kms, Altitude : 5600 m , Meals Included : Breakfast, Lunch, Dinner
Zuthulphuk to Darchen trek 08 km/ 3 - 4 hrs and drive to Taklakot 110 km/ 3-4 hrs.
Have some breakfast and then, indulge in the trek to reach Darchen. While being on your way to Darchen, our vehicles will be present in between your trek in order to pick you as well as your group mates and return back to Darchen. Reach Darchen and then the non-participants in the trek who are waiting there for you will boarding your vehicle from where you will be finally reaching the Lake Manasarovar. Finally reach the holy Lake Manasarovar and from there change the vehicle. It will drop you at Taklakot. Arrive there and then stay overnight at your pre-booked hotel/guesthouse/lodge at Taklakot.
Distance covered : 120 kms, Altitude : 4025 m , Meals Included : Breakfast, Lunch, Dinner
Taklakot to Nepalgunj via Simikot (Drive + Helicopter + Flights) & Drive to Lucknow (180 kms/4-5 hours)
Wake up on time and then drive towards the China-Nepal border situated near Hilsa. Complete all the immigration as well as other custom formalities and then cross the border. Take a chartered helicopter from Hilsa in order to reach Simikot. It totally depends upon the weather conditions on whether you will be staying at Simikot or flying further to Nepalgunj through a connecting flight. Arrive at Simikot and then drive towards Lucknow. We will be dropping you at Lucknow airport or railway station.
Distance covered : 430 kms, Altitude : 2910 m , Meals Included : Breakfast, Lunch, Dinner
Kailash Helicopter Yatra Package Dates 2019 ex Lucknow
The shortest regular heli trip to Kailash Mansarovar starting from Lucknow or Nepalgunj. Every year we operate a series of fixed departure group trips to kailash Mansarovar from Lucknow and Nepalgunj by chartered helicopters. If you wish to join one of the below mentioned group trips, simply send a booking request. if you want a customised travel plan for a private trip, send us an email or call us today.
Kailash Yatra Map by Helicopter from Lucknow & Nepalgunj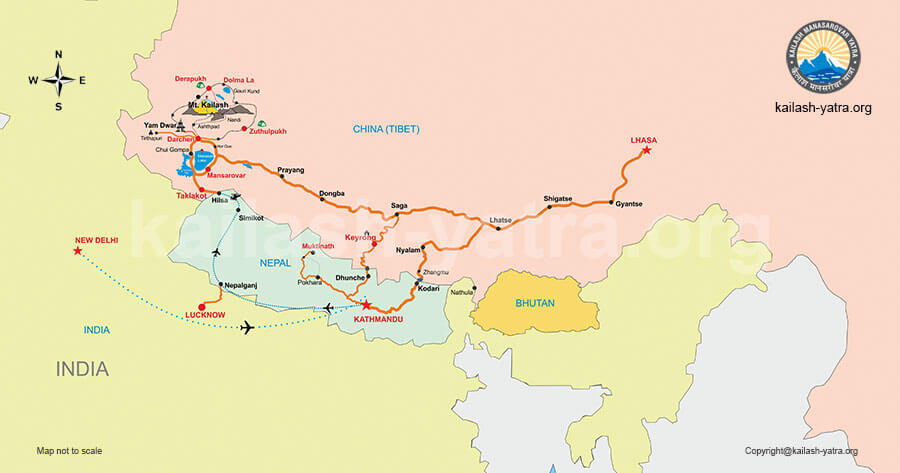 Kailash Manasarovar Helicopter Yatra Cost ex Lucknow
What is Included or Not Included
Price Includes
Lucknow to Nepalgunj and back transfer by air conditioned bus
01 night stay in a 3 star equivalent hotel in Nepalgunj on sharing basis
01 lunch, 01 dinner and 01 breakfast in Nepalgunj
Nepalgunj to Simikot return air tickets in scheduled flights
01 night stay at Simikot or Hilsa in a guesthouse/ best available hotel with all meals.
01 Breakfast, 01 Lunch, 01 Dinner at Simikot/Hilsa
Simikot to Hilsa return helicopter flights on group sharing basis
02 + 01 nights stay in a hotel/guesthouse at Taklakot with all meals
01 night stay in guesthouse near Lake Manasarovar on sharing basis with all meals
01 night stay at Dirapukh during the first day of parikrama with all meals (Light food and snacks)
01 night stay at Zuthulpukh during the second day of parikrama with all meals (Light food and snacks)
Transportation in Tibet side Luxury bus
Basic first aid kit with tour guide
Oxygen cylinders and Oxygen pillow in Tibet side for emergency requirement
English speaking Tibetan tour guide in Tibet side
English / Hindi speaking Nepalese tour leader
Nepalese chef with helper and a Sherpa crew
Support van/truck to carry kitchen equipments and other material
Necessary group permit for visiting Mt. Kailash
Normal Tibet single entry group visa fee to visit Kailash Manasarovar.
Humla restricted area permit fee
Yak for carrying kitchen and trekking equipments
01 duffle back, 01 backpack bag and 01 wind cheater on complimentary basis
Nepal-China border tax
All Nepalese and Tibetan Govt taxes
Total accommodation is for 08 nights in hotels or guesthouses or lodge including 08 breakfast, 08 lunches and 08 dinners.
Food will be very basic and pure vegetarian
There is no refund for any unutilized services
First meal is dinner, last meal will be breakfast on the trip
What is not Included in our package price :
Air ticket to Lucknow and back, extra cost for additional stay, food & transport in the any delay due to weather conditions or unforeseen reasons, evacuation expenses in case of emergency, travel insurance, riding yak/horse, porters for parikraama, any expenses of personal nature, urgent visa fee, GST 5%, etc. Our package cost does not include any other item which is not listed in the above list of inclusions. We do not bear any liability for any other expense occurred during the trip and the same will be payable by the travelers on their own.