Situated in the Western Himalayan ranges of Tibetan Autonomous Region, the 6638m tall diamond shaped Mount Kailash (also Kailāsa) and the largest freshwater Lake Mansarovar (also Manas Sarovar) are the source of great energy and mental peace for mankind. Mount Kailash and Lake Mansarovar are reserved as the most sacred places in Hindu, Jain, Bodh annd Bon religions. Every year during May to October months, devotees and adventure seekers travel to Kailash Mansarovar in a large number.
Kailash Yatra Packages 2023
Kailash Yatra by Helicopter from Lucknow
Route : Lucknow, Nepalganj, Simikot, Taklakot, Mansarovar, Dirapuk, Zuthulphuk... view in map
Trip Cost : INR 185,000
Kailash Yatra by Helicopter from Kathmandu
Route : Kathmandu, Pashupatinath, Simikot, Hilsa, Mansarovar, Dirapukh... view in map
Trip Cost : INR 195,000 / US$ 3470
Kailash Overland Yatra from Kathmandu
Route : Kathmandu, Dhunche, Syapru Besi, Keyirong, Lake Mansarovar, Mount Kailash... view in map
Trip Cost : INR 155,000 / US$ 2580
Kailash Mansarovar Overland Tour ex Lhasa
Route :Kathmandu, Lhasa, Shigatse, Saga, Mansarovar, Mt. Kailash, Lhasa, Kathmandu... view in map
Trip Cost : INR 2,85000 / USD 4310
VIP Kailash Mansarovar Yatra by Private Helicopter
Route : Lucknow, Nepalgunj to Taklakot, Lake Manasarovar, Taklakot to Nepalgunj... view in map
Trip Cost : on request
Kailash Inner Kora Trekking Tour ex Simikot
Route : Kathmandu, Simikot, Taklakot, Mansarovar Lake, Mount Kailash Outer and Inner Kora... view in map
Trip Cost : on request
Kailash Yatra Quick Facts
Mt. Kailash and Lake Manasarovar

Mt. Kailash is known to be the heavenly abode of Lord Shiva and is also considered to be a pilgrimage destination packed with some of the most fascinating lessons of spirituality. It is situated in the Kailash Range (Gangdise Mountains) of the Transhimalaya and carries a highly religious importance too. On the other hand, considered as the most sacred lake in Tibet, Lake Manasarovar is majorly prominent as the world's highest freshwater lake and millions of ardent devotees come from the nook and corners of this world to experience its unique beauty lying at an elevation of 4,590 m.

People and Language

Mount Kailash lies in the Tibet Autonomous Region in China and the people living here are the Tibetans covering more than 90% of the population, Chinese and also the Nepalis. Talking about the official language used as a communicator in the Tibet Autonomous Region, it is none other than the Standard Tibetan vocalized in the form of Tibetic languages. Apart from this, one may also witness the people speaking Chinese as well as the Nepalese here along with majority of the population being fluent in speaking as well as understanding English.

Currency

'Renmibi' or the 'Yuan' is considered to be the official currency of Tibet same as the one followed in China. The currency is available in the form of banknotes as well as the coins. The banknotes are prevalent in the denominations of 100, 5, 50, 20, 2 and 1 yuan; 5, 2 and 1 Jiao; and 10, 2, 5, and 1 fen. Whereas, the coins are prominent in the denominations of 1 yuan; 5, 2 and 1 Jiao; and 5,2 and 1 fen. The Central Bank of China branch consists of a good number of ATMs which can presently be used for the withdrawal of the Renmibi currency. Thus, the visitors can easily be facilitated with the Renmibi currency while being present here.
Weather conditions in TAR Region

TAR is considered to be a region with the cool climate making the people living there wearing varied layers of clothes. It is known to have a harsh climate and during the wintertime, the temperature here goes below minus 30̊F and on the other hand, it goes above 100̊F during the summertime. The Tibet Autonomous Region is a highly dry spot with the hot and cold climate reaching the extreme accompanied with the thin air as well as the sunshine from the high elevation.

Routes to visit Kailash Manasarovar

Millions of pilgrims intend to visit the Kailash Manasarovar that is known to be accessible from the varied points. Once can be a participant of the Kailash journey through abundant number of ways. The most favored and also the 'less complex' routes for reaching here are Kathmandu in Nepal, Simikot in Nepal and Lhasa in Tibet. Apart from this, the Ministry of Tourism has figured out two routes for experiencing the divine Kailash Manasarovar Yatra which are none other than the route through Lipulekh Pass (Uttarakhand) and also the route through Nathu La Pass (Sikkim).

Do's and Dont's for Kailash Yatra

Kailash Manasarovar Yatra is a highly religious journey and is also considered to be a harder one. But, its result is simply priceless. While experiencing the spiritual journey to Kailash, the devotees have always claimed the attainment of inner serenity as well as a sigh of relief. In case you are striving to indulge in the same there are many strict guidelines prominent and an array of do's and dont's which you need to follow while journeying for having the glimpses of the heavenly abode i.e. the Mount Kailash.

click here to read our answers for some of the most frequently asked questions for Kailash Manasarovar Yatra
Know why we are the best tour operator for Kailash Manasarovar Yatra
Kailash Manasarovar Yatra is working with the sole intention of their clients' satisfaction and has inculcated varied new packages as well as tours keeping the needs and the preferences of the customers in view. Our team is ready to serve you with the finest expedition to Mount Kailash accompanied with abundant choices.
OUR COMPANY MISSION
Committed To Devotees' Satisfaction
We strive to attain the utmost satisfaction of the pilgrims associated with us for the Kailash Manasarovar Yatra and we are always successful in achieving this moto since our travel experts are highly cooperative and know how to tackle the kith and kin while travelling to Mount Kailash.
CREATIVE AND POWERFUL
Knowledgeable And Experienced Travel Experts
Our eminent team of travel professionals is here to accompany you and share its knowledge about the varied aspects of Mount Kailash and lets you engross in the spirituality of the mighty Mt. Kailash. We are here to plan your journey full of divinity and get an experience for lifetime.
HONEST AND DEPENDABLE
Promising You A Highly Secure Journey
As notified, the Kailash Manasarovar Yatra is not an easy one and thus, there exists a dire need for the devotee to be facilitated with utmost safety. Thus, in this regard we have made the safety measures and other mandatory elements ready for our clients.
KAILASH YATRA NEWS
Advisory issued by the Indian...
Each and every Indian citizen intending to travel to Kailash Manasarovar through the Himalayan Kingdom has been mandatorily asked by the Indian Embassy located in Nepal to attain the Chinese Visa as well as the travel permit for Tibet before they start their Kailash Mansarovar Yatra.
Apr 14, 2019
Read More
TRIPS ORGANISED

HAPPY CLIENTS

YEARS OF SERVICE

Top Places to Visit near Kailash Manasarovar
While being on your way to reach the ultimate destination i.e. the Holy Mount Kailash, one shall spot many spiritual hubs on the way and those are listed below:
Kailash Manasarovar Yatra Blog
We organise your spiritual journeys for inner peace and salvation
"Our ultimate goal is to provide you with first had information and organise a successful spiritual travel for you to some of the mightiest and holiest places on the earth, especially to Mt. Kailash and Lake Mansarovar situated in Tibetan Himalayan ranges." - Vishal Gogia, MD, Max Holidays
We witness thousands of satisfied clients every year. See what all they have to say about us :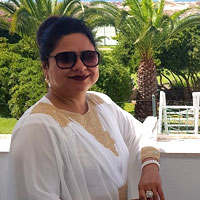 My big thanks to Max Holidays for my memorable trip to Kailash Mansrover. I have had very good experience with other yatris. We started yatra from Kathmandu as planned.I enjoyed the road journey , It was adventurous . First I met with first member of team (Prem) in NepalGunj. He is very good and helpful person.We had everywhere healthy and fresh food on time.In Keyrong we met other team members (Lal singh, Neema, Fulwa and Lop) these people are hard workers and have dedicated spirit.
we became like a family. They have looked after us like a family members.I take my Hat Off to them for their hard work.My hearty thanks to Mrs. Vidushi for her efforts.I would definitely recommend to go with Max Holidays.
I travelled with my mother to Kailash-mansarovar on 11days Heli-Kailash tour of 'Max Holidays' in July'18...I am happy the way Max team handled our entire journey... Specially Mr.Prince Bedi who extended his helping hand at every point during booking and then while traveling with us to Kailash..He calmly n patiently handled all our queries and was making sure to provide a safe n secure environment for women travellers like us( In our Grp we were 5 solo women traveller). The journey like this needs lots of preparation, manpower management n paperwork..
Max holidays paperwork in terms of all required permits was perfect and we didn't face any issues regarding same.. Thank u 'Max Team' -Mr.Prince for making this journey successful for us
Max holidays paperwork in terms of all required permits was perfect and we didn't face any issues regarding same.. Thank u 'Max Team' -Mr.Prince for making this journey successful for us
Har har mahadev,I had a strong desire to visit Kailash Mansarovar, When I started searching for good tour operator, It was very difficult to identify the best one as all were promising the best. In the process when I contacted Max Holidays and asked the contact number of a person who visited Kailash last year, I was provided the number of three person and I contacted one Mr. Nirankar Agarwal who explained the entire process of yatra and with his satisfied experience with Max, I along with two colleagues took up the journey with the Max.
Mr. Vishal Gogia, CEO Max and Mr. Girish Vats coordinator attended us at Lucknow Airport and they were all along with us through out the journey. We all were given a personalized care and their coordination at all places with all agencies was superb and none of us had to face any inconvenience. We had a wonderful onward journey to Mansarovar, A divine bath, Hawan Puja at Holi Mansarovar on Full Moon Night and ultimately full parikrama of Kailash which could be completed successfully within two days. Our return journey was also well planned but due to bad weather some of us had to stay at Hilsa for three nights. However, Mr. Vishal did his best to attend everyone. We could see the difference between Max Holidays and other tour operators.
All the 40 members of the group were fully satisfied with personalized attending and hospitality rendered by Mr. Vishal and his team. I am looking forward to travel with Max Holidays soon. I wish the Max Holidays all the very best.
Taking care of one's group is great. But helping people of other group is greatest. This we found in Vishal of Max Holidays. When our tour operator, Nepal Pilgrim Travels, Mylapore, was nowhere to be seen and who had left us high and dry, it was Mr. Vishal who helped us a lot.
Stranded at Hilsa on 3rd July and when some of us were ill he brought in his team doctors immediately and assured us that we would be taken care of. We have all decided that in future our travels would be with Max Holidays. One can be sure that he/ she is in safe hands.