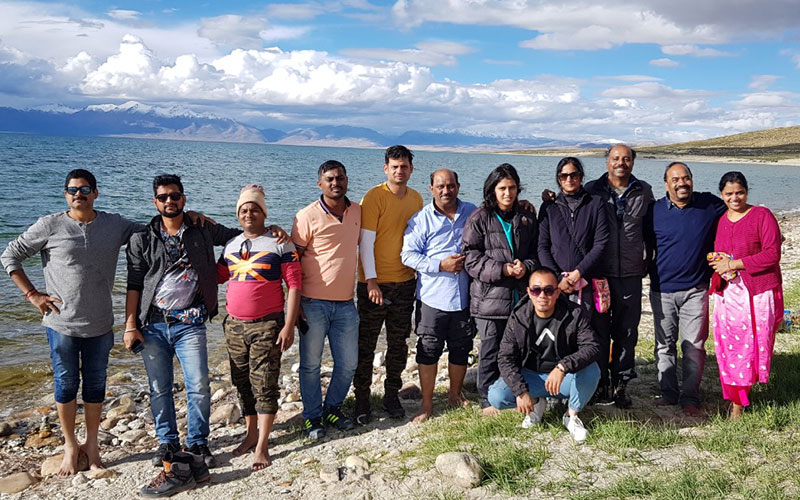 Kailash Inner Kora yatra by Helicopter - 13 Days
Known as a holy mount to Hindu, Buddhist and Jain religion followers, the Mount Kailash is situated in the remote mountains of TAR (Tibetan Autonomous Region) in China near India, Nepal, China border. Mount Kailash is considered to be the ultimate home of Lord Shiva for Hindus, for Jain followers it is the place where their religion took birth and Buddhist also consider the mount as the home of Buddha Demchok. Every year thousands of pilgrims undertake a trip to Kailash Mansarovar to find inner peace. The regular groups travel to Kailash to join the outer kora (parikrama or circumambulation) of the mount wherein the Inner parikarama or inner kora of Kailash takes you much closer to the mount and also gets an opportunity to visit many other places including Nandi, Ashtapad, Saptarishi caves and Atma Linga. Inner Kora of Kailash is comparatively tough and usually it takes place once or twice in a year. The best time for inner kora of Mount Kailash and Nandi is August month. For more information and bookings you may contact our kailash Yatra inner kora experts by phone or email.
Kailash Mansarovar Overland Yatra Itinerary
Arrive Kathmandu
Arrive Kathmandu international airport and get assisted transfer to the hotel. Dinner will be your first meal today in the package. Stay in the hotel for the night.
Kathmandu
In the morning after breakfast enjoy full day guided tour of Kathmandu city visiting Pashupatinath Temple, Swayambhunath Temple, Neelkanth Vishnu Temple and Darbar Square. You may spend some time on your own in the local market of Thamel in Kathmandu or relax in the hotel for the rest of the time.
Kathmandu-Nepalgunj flight
In the morning have your breakfast in the hotel. Later intime transfer to Kathmandu airport to board flight to Nepalgunj. IN Nepalgunj transfer to the hotel for night stay. In the evening if time permits we will organise Kailash Mansarovar Yatra briefing session for the group participants. During the briefing session we will give guidelines for the yatra and will answer to your queries related to Kailash Yatra.
Nepalgunj-Simikot- Hilsa-Taklakot
Get ready in the morning to start your Kailash Yatra as you board your flight to Simikot where your chartered helicopter is waiting to transport you further to Hilsa. We will complete immigration formalities at Nepal-China border before we start our drive to Taklakot from Sher, Tibet. Comfortable stay and meals at your hotel in Taklakot.
Taklakot
Full day free to acclimatize and prepare for Kailash Mansarovar Yatra. Taklakot is a bigger town comparatively and one can walk into the nearby markets to buy some fruits, juices, trekking gears, bottle or any other needful item. Night stay at Taklakot in the hotel.
Taklakot-Mansarovar
In the morning drive to Lake Manasarovar from Taklakot. During the drive you will get the first sight of holy Mount Kailash. We wil take a stop near the Lake Rakshastal (Lake of the Demon). This salty water lake is on the western side of Lake Manasarovar and it is considered to be inauspicious to take dip in this lake. This lake is associated with the king of Demons 'Ravana'. Continue drive along the Lake Manasarovar and complete Mansarovar parikrama by the vehicle (about 90 kms). On the way if time permits we will stop at a suitable place to take dip and collecting holy stone from the lake. Stay near the lake in the lodge.
First day trek to Dherapukh
WAfter early morning dip and prayers near the lake Mansarovar, the group will drive to Darchen, the base camp of Holy Mount Kailash and starting point of the kora. About 6 kms from darchen we reach Yam Dwar by our vehicle and start the trek on foot or hire a horse. The 12 kms trek will take you to Dherapukh which is perhaps the most important points during the parikrama. Night stay in the guest house near Mount Kailash.
Second day trek to Zuthulpukh
As you are at the nearest point from Mount Kailash on Mount Kailash parikrama, early morning you can witness the majestic Golden Kailash as the first sun light reaches the mount and changes it colour to golden. Do not miss to capture this once in a lifetime moment in your eyes and camera. Pray here and then continue your trek to Dolma La which is the highest point of the Kailash parikrama. 5-6 hours tough trek up and then down will not be easy but once you have finished it the further trek is moderate and scenic. Near Dolma La you will also visit holy Gauri Kund or Parvati Kund. 22 kms trek today will bring you to Zuthulpukh where you will have your dinner and lodge ready for the night.
Zuthulpukh-Darchen
In the morning after breakfast continue trek down to Darchen. Stay at Darchen for the night and relax as you prepare for Mount Kailash Inner kora (also referred as Nandi Kora) taking place next morning.
Nandi kora (Inner Kora)
Early morning, start Kailash inner trekking and perform kora around Nandi parvat. Also visit Saptarishi Caves, Ashtapad and Atma Linga during Kailash Inner Kora tour. IN the evening trek down to Darchen for night stay.
Darchen-Taklakot
In the morning after breakfast drive to Taklakot. Food and stay in the hotel at Taklakot.
Taklakot-Hilsa- Nepalgunj-Kathmandu
IN the morning drive to HIlsa. Board your chartered helicopter to Simikot and connect with your flight to Kathmandu ex Nepalgunj. Stay at Kathmandu
Remarks : If the journey from Taklakot to Nepalgunj gets delayed due to weather conditions shortage of flights or any other reason, you might have to stay at either Simikot or Nepalgunj for the extra nights for which extra amount is payable on the spot.
Departure
Intime fly out from Kathmandu airport to your hometown. The Kailash Mansarovar Yatra tour package concludes as you fly to your home with great experience of visiting Mount Kailash and Lake Manasarovar.
Yatra Map Kailash Inner Kora yatra by Helicopter - 13 Days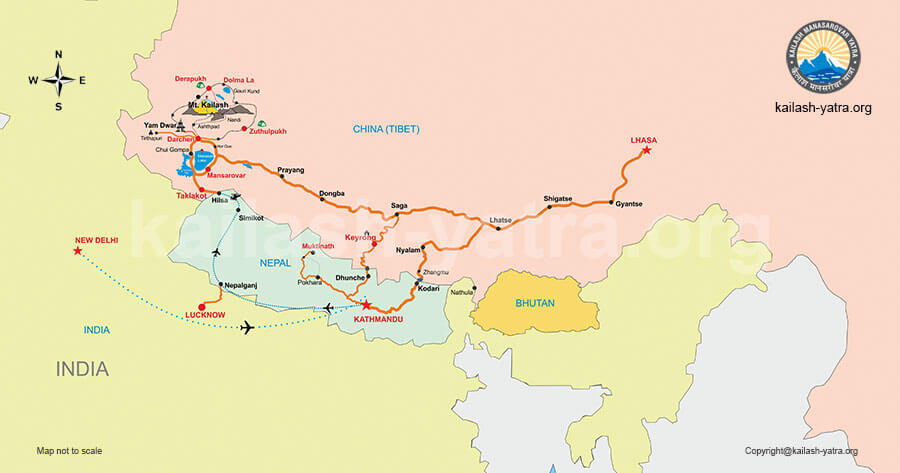 Kailash Inner Kora yatra by Helicopter - 13 Days Cost
What is Included or Not Included
Price Includes
Price Includes :
Arrival & departure transportation in Kathmandu
Sightseeing tour of Pashupatinath and Boudhanath Temples.
3 nights in 3 Star equivalent hotel in Kathmandu on twin sharing basis with all veg meals
Return transfer to Nepal-China border by local bus.
Tibet Portion: accommodation in guesthouses on sharing basis in dormitory style
Pure vegetarian meals.
Support vehicle for carrying luggage and kitchen equipments
English speaking Tibetan guide & Nepali tour leader supported by cook & helpers
First Aid kit with the group and Oxygen cylinders in Tibet side
Necessary permit Langtang and Kailash region.
Normal Tibet/China visa fee to visit Kailash.
Arrangements for Nandi Kora
Yak to carry kitchen equipments during parikraama
01 Backpack bag, 01 Duffle Bag and 01 Wind Cheater complimentary
Yatra completion certificate
What is not Included in our package price :
Air ticket to Kathmandu and back, extra cost for additional stay, food & transport in the any delay due to weather conditions or unforeseen reasons, evacuation expenses in case of emergency, travel insurance, riding yak/horse, porters for parikraama, any expenses of personal nature, urgent visa fee, GST 5%, etc. Our package cost does not include any other item which is not listed in the above list of inclusions. We do not bear any liability for any other expense occurred during the trip and the same will be payable by the travelers on their own.