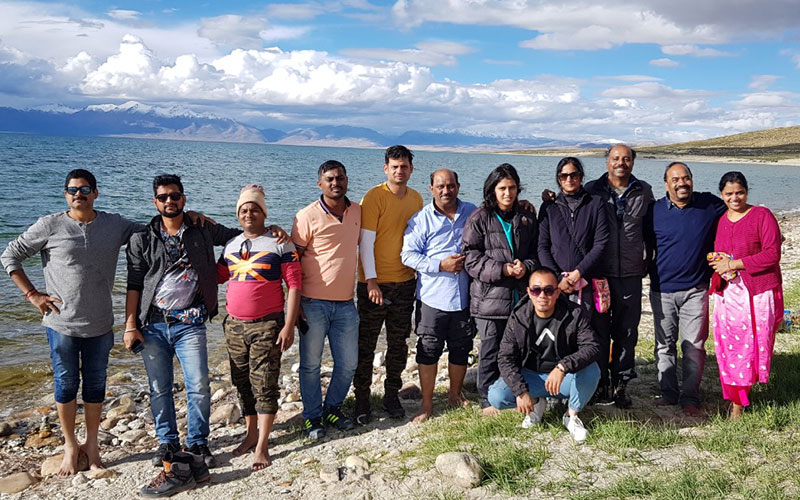 Trip Duration


13 Days

Start Point


Kathmandu

Finish Point


Kathmandu

Trip Type


Group Joining

Trip Expense


from 240000
Kailash Inner Kora yatra by Helicopter - 13 Days
Located in the Tibet Autonomous region (TAR) near India, Nepal and China border, Mount Kailash is not only ardently followed by Hindus, but also by Jains, Buddhists and Bonpos. Mount Kailash is considered to be the ultimate home of Lord Shiva for Hindus, for Jain followers it is the place where their religion took birth and Buddhist also consider the mount as the home of Buddha Demchok. Each year, a good number of pilgrims participate in the Kailash Mansarovar Yatra with an intention of attaining the utmost inner peace. This divine walk lets you have an experience of the Outer Kora of Mount Kailash as well as its Inner Kora in which you will be exploring varied spiritual destinations including the Ashtapad, Saptrishi caves, Nandi Parvat as well as the Atma Linga. Inner Kora of Kailash is comparatively tough and usually it takes place once or twice in a year. The best time for inner Kora of Mount Kailash and Nandi is August month. For more information and bookings you may contact our Kailash Yatra inner Kora experts by phone or email.
Kailash Inner Kora yatra by Helicopter Itinerary
Arrive Kathmandu
Arrive at Kathmandu's Tribhuvan International Airport where you will meet our representative present there to welcome you and facilitate your transfer to the pre-booked hotel in Kathmandu. Have some dinner and then stay overnight there.
Kathmandu
Have some tasty breakfast and then start your full day sightseeing tour of Kathmandu in which you will be indulged in the exploration of Pashupatinath Temple, Swayambhunath Temple, Neelkanth Vishnu Temple and Darbar Square. Once done, you can spend the remaining time while walking in the Thamel market or take some rest in your hotel. Enjoy luscious dinner and stay overnight in your Kathmandu's accommodation.
Kathmandu-Nepalgunj flight
Once done with the breakfast at your Kathmandu's hotel, you will be provided an assisted transfer to Kathmandu Airport from where you will be boarding a flight in order to reach Nepalgunj. Reach Nepalgunj and then check in at your pre-booked hotel/guesthouse there. During evening (if the time permits), our team will be organizing a briefing session informing you about the 'much needed information' about Kailash Manasarovar Yatra. Stay overnight at your Nepalgunj's hotel/guesthouse.
Nepalgunj-Simikot- Hilsa-Taklakot
Wake up in the morning and board a flight from Nepalgunj's airport to reach Simikot. From Simikot, you will be taking a chartered helicopter for arriving at Hilsa. Complete the custom and immigration formalities at the Nepal-China border and once done, get into the buses and reach Taklakot from Sher. Have your meals and stay overnight at your pre-booked guesthouse/hotel in Taklakot.
Acclimatization in Taklakot
Today you are free to relax in your hotel and have meals. Acclimatize your body in the surroundings and climatic conditions of Taklakot. In case you are interested, you can walk in the varied markets of Taklakot and also prepare for the Kailash Yatra that is going to start next day. Stay overnight at Taklakot's hotel.
Taklakot-Mansarovar
Wake up early morning and then start your drive from Taklakot to reach Lake Manasarovar. Get the first view of holy Mount Kailash during your journey and apart from that give a midway halt at the Rakshastal (Lake of Devil). This salty water lake is on the western side of Lake Manasarovar and it is considered to be inauspicious to take dip in this lake. This lake is associated with the king of Demons 'Ravana'. Today you will be completing approx. 90 kms of Lake Manasarovar's Parikrama/circumambulation by bus and in case you have some time, then you can take some holy dips in Lake Manasarovar. Stay overnight at a guesthouse/lodge/camp near the Manasarovar Lake.
First day trek to Dherapukh
Wake up early morning today and take some holy dips in Lake Manasarovar, apart from that you can also do some prayers and perform divine rituals there. Once done, drive towards Mount Kailash's base camp Darchen. It is also the starting point of your Parikrama. From Darchen, you need to reach the holy gate Yam Dwar that is located about 6 kms from Darchen and from there, start your trek towards Dirapuk. Those who do not want to participate in this trek can visit the Yam Dwar, then come back to their stay at Darchen and wait for the other members who are participating in the trek.

Those who are in the trek to Dirapuk will be staying overnight at a guesthouse/lodge in Dirapuk that would be near to Mount Kailash.
Second day trek to Zuthulphuk
Today, wake up early morning and see the immense beauty of the Golden Kailash. Spend some time in some prayers and then start your trek towards Zuthulphuk. This 22 kms trek will first take you to the trip's highest point Dolma La Pass by constantly climbing upwards till you reach there, and then indulge in a gradual ascend till you spot Gauri Kund, and finally walk on a rather flat surface till you reach your ultimate stop Zuthulphuk. Check-in at your guesthouse in Zuthulphuk where you will be staying overnight.
Zuthulphuk-Darchen
Wake up and have some breakfast. Once done, proceed with your trek towards Darchen. Overnight stay at your lodge in Darchen.
Nandi Kora (Inner Kora)
Today, start your Inner Kora/circumambulation (Nandi Kora) early morning. During the Inner Kora, you are going to visit many spiritual sites such as the Saptrishi Caves, Atma Linga and also the Ashtapad. During evening, trek downwards and reach Darchen. Overnight stay at your guesthouse there.
Darchen-Taklakot
Have some delicious breakfast at your guesthouse in Darchen and then head towards Taklakot through a drive. Have dinner and stay overnight at Taklakot's hotel.
Taklakot-Hilsa- Nepalgunj-Kathmandu
Today morning, indulge in a drive for arriving at Hilsa. From there, take a helicopter ride to reach Simikot and on reaching Simikot, board a flight in order to reach Kathmandu ex Nepalgunj. Overnight stay at your pre-booked hotel in Kathmandu.

Remarks : In case your journey from Taklakot to Nepalgunj gets delayed or faces any other issues due to unfavourable weather conditions or any other miscellaneous reason, then there may arise a need for you to stay for extra nights at Nepalgunj or Simikot and that would be done on additional charges.
Departure
Board a flight for reaching your home/onward destination from Kathmandu's airport. The Kailash Mansarovar Yatra tour package concludes as you fly to your home with great experience of visiting Mount Kailash and Lake Manasarovar.
Kailash Yatra Dates 2020 for Inner Kora Trip by Helicopter
What is Included or Not Included
Price Includes
Price Includes :
Arrival & departure transportation in Kathmandu
Sightseeing tour of Pashupatinath and Boudhanath Temples.
3 nights in 3 Star equivalent hotel in Kathmandu on twin sharing basis with all veg meals
Return transfer to Nepal-China border by local bus.
Tibet Portion: accommodation in guesthouses on sharing basis in dormitory style
Pure vegetarian meals.
Support vehicle for carrying luggage and kitchen equipments
English speaking Tibetan guide & Nepali tour leader supported by cook & helpers
First Aid kit with the group and Oxygen cylinders in Tibet side
Necessary permit Langtang and Kailash region.
Normal Tibet/China visa fee to visit Kailash.
Arrangements for Nandi Kora
Yak to carry kitchen equipments during parikraama
01 Backpack bag, 01 Duffle Bag and 01 Wind Cheater complimentary
Yatra completion certificate
What is not Included in our package price :
Air ticket to Kathmandu and back, extra cost for additional stay, food & transport in the any delay due to weather conditions or unforeseen reasons, evacuation expenses in case of emergency, travel insurance, riding yak/horse, porters for parikraama, any expenses of personal nature, urgent visa fee, GST 5%, etc. Our package cost does not include any other item which is not listed in the above list of inclusions. We do not bear any liability for any other expense occurred during the trip and the same will be payable by the travelers on their own.
Kailash Yatra Inner Kora Image Gallery
Useful Information for traveling to Mount Kailash & Lake Mansarovar :