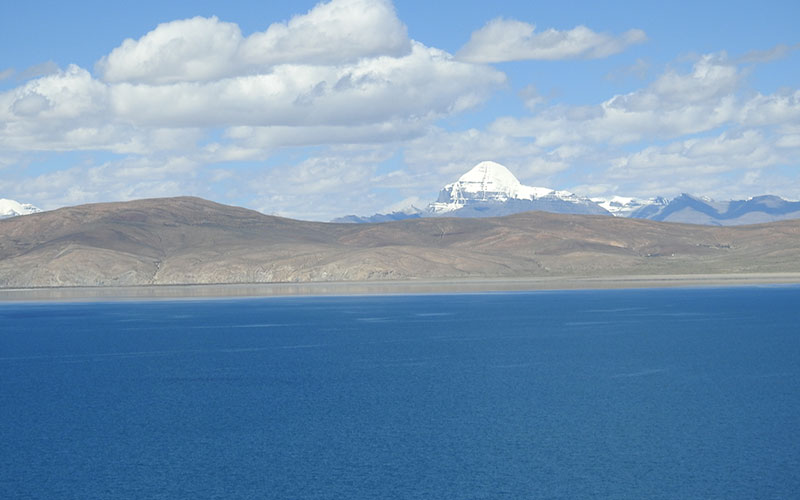 Kailash Yatra by Helicopter via Nepalgunj - 07 Days
Kailash Manasarovar Yatra without trekking is special designed for senior citizens and for those who want to get once in a life time darshan of Holy Mount Kailash and The Manasarovar Lake. It is starting from Lucknow or Nepalgunj thereafter we will complete this Yatra to Hilsa via Simikot by helicopter/fixed wing aircrafts. After completing custom formalities at Tibetan border, we will have to board our vehicle bus/land cruisers from Tibetan side to reach Taklakot and rest of our journey will be covered by road. In Taklakot (Purang) which is a tiny and beautiful unexplored place, you will have 02 nights stay to acclimatize yourself. Afterward we will proceed towards The Holy Manasarovar Lake to perform puja/havan. This package includes airport transfers, meals, visa/ permit, accommodating charges and etc.
Kailash Mansarovar Helicopter Yatra Without Parikrama
Reach Lucknow and drive to Nepalgunj (180 m) – 4-5 hours drive
Today morning the group members will report at a designated point to start the trip to Nepalgunj. On the way stop for tea/coffee and then continue drive to Nepalgunj. Upon arrival, check into the hotel/guesthouse. Lunch, dinner and stay will be at Nepalgunj.
Distance covered : 180 kms, Altitude : 150 m , Meals Included : Dinner
Fly Nepalgunj – Simikot (2910m) – 50 minutes flight
The flight between Nepalgunj to Simikot is a complicated part of this trip as the operation of those small aircrafts completely depends on the weather conditions. The weather keeps changing very frequently near Simikot and it sometimes causes short or long delay in taking flight to and from Simikot. We will reach Nepalgunj airport early in the morning as directed by the guides to ensure that we can board the earliest possible flight to Simikot. Rest of the time will be free at Simikot to acclimatize with the weather conditions. Stay in a hotel / guesthouse in dormitory style.
Distance covered : 275 kms, Altitude : 2910 m , Meals Included : Breakfast, Lunch, Dinner
Fly Simikot (2910m) – Hilsa (4025m) 25 minutes flying time. Drive to Taklakot – (4755m)
Early breakfast and then reach Simikot airport to connect with your Helicopter flight to Hilsa. From Hilsa walk to China immigration and after completing the visa formalities walk to your bus waiting on the other side of the border. To reach your bus, you will be crossing a river by swinging bridge to reach Sher, Tibetan border region. A short 22 kms drive (45 minutes) will take you to your hotel in Taklakot. Relax till the guide is organising rooms for your stay. After a tiring day you have reached to a height of over 4755 meters and health issues are quite common here. Please eat properly, drink good amount of liquids, follow the instructions of the guide and do not expose yourself to air. Dinner and stay will be at the hotel in Taklakot.
Distance covered : 155 kms, Altitude : 4025 m , Meals Included : Breakfast, Lunch, Dinner
Taklakot – Day free to acclimatize (4025m)
After breakfast entire day at leisure for acclimatize you body. In the afternoon short treks will be taken in preparation for the Kailash Yatra, overnight stay at Hotel.
Distance covered : 0 kms, Altitude : 4025 m , Meals Included : Breakfast, Lunch, Dinner
Drive Taklakot to Lake Manasarovar (4590m) - 90 kms / 1 ½ hour drive
We have very important day today as we are heading to the holiest place at Lake Manasarovar. After breakfast start drive in the bus to Lake Mansarovar. Approx one and a half three hours drive through beautiful mountains and terrains will bring you to Lake Mansarovar. Before reaching Chui Gompa, our destination for the night near Lake Mansarovar, make a stop near Rakshas Tal (Lake of Demons) for a while. From here you will have the first glimpse of Holy Mount Kailash. Continue drive to Chui Gompa and check into your guest house. Rest of the time free to explore the beautiful lake, performing rituals and prayers, taking dip in the lake and other personal activities. Meals and stay will be at the guesthouse.
Distance covered : 110 kms, Altitude : 4590 m , Meals Included : Breakfast, Lunch, Dinner
Drive to Darchen (4025m) 35kms drive and drive to Taklakot (3-4 hours trek and 3-4 hours drive)
Today morning, we will wake up comfortably and we will find a good place for holy dip in the Lake Manasarovar for our pilgrims and then we take a short drive to Darchen. On the way, we can also see panoramic scenery of Rakshas Tal (Demon's Lake) in the other side of Lake Mansarovar. At Darchen all pilgrims have opportunity to visit Yama Dwar and have close darshan of Mount Kailash, before we continue our drive back to Taklakot. Relaxed time and stay in guesthouse at Taklakot.
Distance covered : 155 kms, Altitude : 4025 m , Meals Included : Breakfast, Lunch, Dinner
Taklakot to Nepalgunj via Simikot (Drive + Helicopter + Flight)
After early breakfast 22 kms drive towards China-Nepal border. Cross the border by walk and after completing immigration formalities reach Hilsa, Nepal side. Take 25 minutes helicopter flight to Simikot and then 55 minutes flight to Nepalgunj. Upon arrival at Nepalgunj drive to Lucknow. Drop off at Lucknow railway station/airport.
Distance covered : 585 kms, Altitude : 150 m , Meals Included : Breakfast, Lunch, Dinner
Yatra Dates 2019 by Helicopter via Nepalgunj - 07 Days
The majorly accepted package of Kailash Manasarovar Yatra i.e. experiencing this Yatra by helicopter via Nepalgunj is considered to be a highly comfortable tour not only for the present generation but also for the older people who are not in a condition to complete the Kora on foot. Also, here you will be witnessing Lake Manasarovar and its pristine water.
Yatra Map for Helicopter via Nepalgunj - 07 Days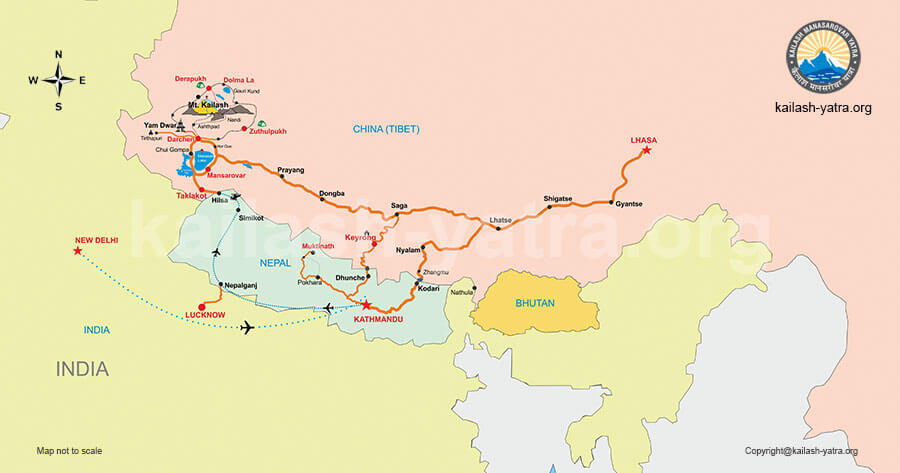 Kailash Manasarovar by Helicopter via Nepalgunj - 07 Days Yatra Cost
What is Included or Not Included
Price Includes
Arrival & departure transportation in Kathmandu
Sightseeing tour of Pashupatinath and Boudhanath Temples.
3 nights in 3 Star equivalent hotel in Kathmandu on twin sharing basis with all veg meals
Return transfer to Nepal-China border by local bus.
Tibet Portion: accommodation in guesthouses on sharing basis in dormitory style
Pure vegetarian meals.
Support vehicle for carrying luggage and kitchen equipments
English speaking Tibetan guide & Nepali tour leader supported by cook & helpers
First Aid kit with the group and Oxygen cylinders in Tibet side
Necessary permit Langtang and Kailash region.
Normal Tibet/China visa fee to visit Kailash.
Kerung border tax
Yak to carry kitchen equipments during parikrama
01 Backpack bag, 01 Duffle Bag and 01 Wind Cheater complimentary
Yatra completion certificate
What is not Included in our package price :
Air ticket to Kathmandu and back, extra cost for additional stay, food & transport in the any delay due to weather conditions or unforeseen reasons, evacuation expenses in case of emergency, travel insurance, riding yak/horse, porters for parikraama, any expenses of personal nature, urgent visa fee, GST 5%, etc. Our package cost does not include any other item which is not listed in the above list of inclusions. We do not bear any liability for any other expense occurred during the trip and the same will be payable by the travelers on their own.